IN 2018 THE MISSION:
Provided services to 4,131 families (13,186 individuals)
Clothes Distributed:  73,410 lbs.
Food Distributed:  249,390 lbs.
Thank you to all who support the CARE Mission!
If you have a desire to volunteer your God-given talents at the CARE Mission, please contact Jerri A. Glahn at 859-635-4500 for additional information.

NOW THROUGH NOVEMBER 30, 2019
FOR EVERY TIRE PURCHASED, COMMUNITY CAR CARE WILL DONATE $5.00
(MAKE SURE YOU TELL THEM YOU WANT IT TO GO TO THE CARE MISSION)
****************************************************************************************
meijer

"Simply Give" Holiday Campaign
HELP FEED THE HUNGRY IN YOUR AREA THIS HOLIDAY SEASON!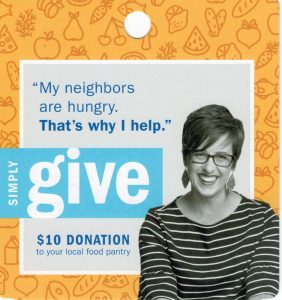 PURCHASE THE ABOVE CARD (IN ANY INCREMENT OF $10) AT THE COLD SPRING MEIJER (AVAILABLE AT CHECK OUT) NOW THROUGH JANUARY 4, 2020 AND THE CARE MISSION WILL RECEIVE THAT AMOUNT IN FOOD.
IF YOU PURCHASE THE CARD ON TUESDAY, DECEMBER 3RD OR WEDNESDAY, DECEMBER 13TH, MEIJER WILL DOUBLE MATCH THE CARD, SO THE MISSION WILL RECEIVE $30 FOR EVERY $10 PURCHASED.
---
Each of you should use whatever gift you have received to serve others,
as faithful stewards of God's grace in its various forms.
I Peter 4:10