IN 2018 THE MISSION:
Provided services to 4,131 families (13,186 individuals)
Clothes Distributed:  73,410 lbs.
Food Distributed:  249,390 lbs.
Thank you to all who support the CARE Mission!
If you have a desire to volunteer your God-given talents at the CARE Mission, please contact Jerri A. Glahn at 859-635-4500 for additional information.
MEIJER "SIMPLY GIVE" CAMPAIGN
NOW THROUGH SEPTEMBER 28TH
MEIJER IN COLD SPRING, KY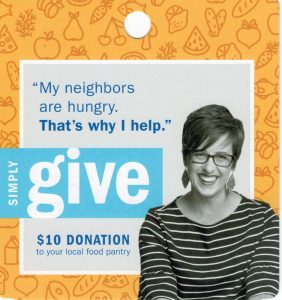 WHEN YOU PURCHASE THIS CARD AT THE COLD SPRING MEIJER FOR $10,
THE CARE MISSION WILL RECEIVE THAT IN FOOD.
ADDITIONALLY, ON FRIDAY, AUGUST 30TH & FRIDAY, SEPTEMBER 13TH,
WHEN YOU PURCHASE THE CARD, THE CARE MISSION WILL RECEIVE $30 IN FOOD.
---
Each of you should use whatever gift you have received to serve others,
as faithful stewards of God's grace in its various forms.
I Peter 4:10